VanEck Lists Bitcoin ETN on Deutsche Börse
U.S. investment management firm VanEck has secured the listing ofa Bitcoin ETN on Germany's biggest stock exchange, Deutsche Börse Xetra, which manages €1.4 trillion in listed stocks.
"Bitcoin's low correlation to other asset classes makes it an excellent way to contribute to the diversification of a portfolio," Martijn Rozemuller, Head of Europe at VanEck, said in a statement before further adding:
"With our VanEck Vectors Bitcoin ETN, we offer a product that allows investors to benefit from the performance of Bitcoin."
The ETN is fully backed by bitcoin they say. Thus instead of investors managing wallets, the purchase and storage of the bitcoin ETN is as simple as trading in shares or ETFs.
"VanEck is committed to supporting Bitcoin-focused financial innovation. Bringing to market a physical, fully-backed major exchange-listed Bitcoin ETP was a top priority of our firm.
We succeeded! We hope to serve many clients and partners in Europe, Asia and across the world using our innovative, investment-friendly and regulatory-conscious access vehicles," said Gabor Gurbacs, VanEck's director of digital asset strategy.
The performance of the ETN reflects the performance of the MVIS CryptoCompare Bitcoin VWAP Close Index, the price of which is directly linked to that of bitcoin.
"Our Bitcoin ETN is fully collateralized. This means that the money invested in the ETN is actually used to buy Bitcoin," says Dominik Poiger, Product Manager at VanEck. "In this way, each ETN represents a certain amount of Bitcoin."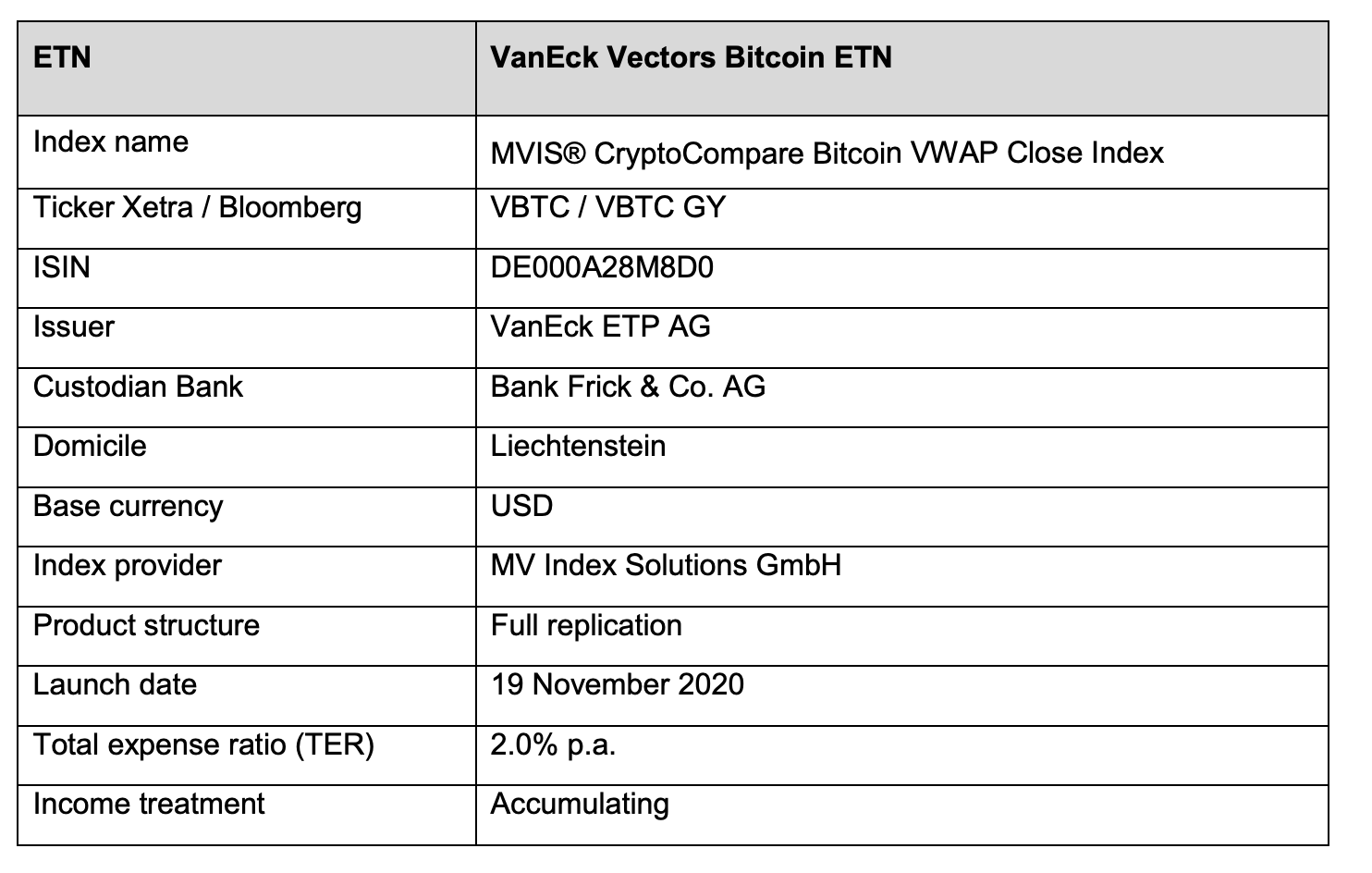 For bitcoin custody VanEck has partnered with Bank Frick, a crypto custodian regulated in Liechtenstein, which holds the bitcoin in cold wallets.
They claim to be an early market entrant and one of "the European pioneers in the integration of crypto currencies in the regulated banking environment."
"Thanks to our early market entry, we can demonstrate established and secure processes and extensive expertise," says Raphael Haldner, Head of Fund and Capital Markets at Bank Frick.
Meaning investors in Europe have just gotten a new way to diversify their portfolio following a surge in bitcoin ETN volumes recently.
Most such ETNs are small however with the Canadian ETF having just $100 million in assets under management, but that's a very new product while VanEck's ETN has just gone out.
Its known brand may give institutional investors more comfort when looking at their investment portfolios as now, especially where pensions are concerned, some of it can be in bitcoin.
That's especially in Europe where stock like bitcoin choices are increasing, with it getting more and more likely that a bitcoin ETF will soon come to America too.