Bitcoin Fake Volume Imbroglio Heats Up: Is This Where Industry Really Grows?
Crypto, much like every other modern industry, is as competitive as a grade eight soccer championship. Case in point, much of this industry is based off which project is best. Bitcoin or Ethereum, Dash or Decred, and so on and so forth. Messari, a New York-headquartered market data provider/analyst group, continued this long-standing theme on Tuesday, with its chief executive punching up in a scathing newsletter.
Messari Targets Fellow Crypto Data Providers
Over recent days, there's been a hubbub of discussion about the legitimacy of what data services feed investors. Some of these sites are known around the globe — CoinMarketCap (CMC), for instance, is a top 500 site on Amazon's Alexa — but Messari's Ryan Selkis argues that something doesn't sit right with him about their data.
Under his known pseudonym, Two-Bit Idiot, the crypto insider explained that while CMC has done a good job for most of its lifespan, it's "data is [mostly] wrong." Selkis compares data seen on his site, predicated on delving into supply cap nuances, false exchanges/volumes, and other caveats, and that registered by CoinMarketCap.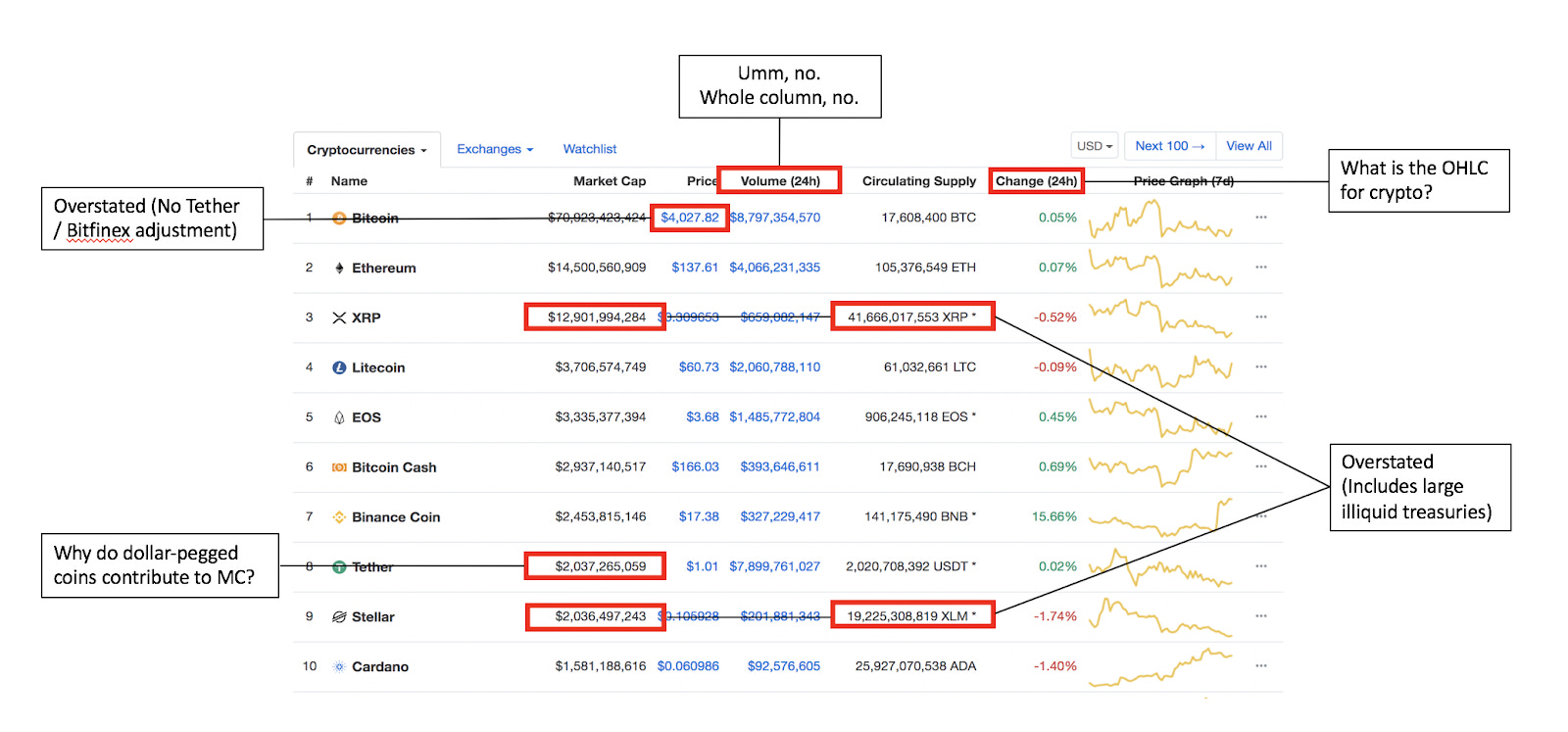 To back his point, the Messari chief draws attention to Bitcoin's ticker on CMC, which purportedly doesn't account for the Bitfinex premium. He also looks to CMC's supply reading for both XRP and XLM, which are purportedly overstated due to treasuries held by institutions, namely Ripple Labs and the Stellar Development Foundation. Selkis adds that trading volumes for some cryptocurrencies "are inflated by 20-50x," hinting at recent reports that trading activity in this market, by and large, is entirely fake, manipulated, or something of the sort.
Two-Bit then draws attention to a time that CMC's ad provider/service placed a blatant BitConnect ad on its front page, writing that "CMC was built on the back of ICO mania, and a number of scams who advertised on their site."
And with that, he explained that with Messari's "Real 10 Volumes," an initiative created to single out the bonafide exchanges from the bad actors, and other programs from other data providers, a proverbial fire will be lit under CMC's rear-end.
But what's this long, extensive rant all about? And, more importantly, should it be something we should heed?
Bitwise Uncovers Fake Bitcoin Trades
As hinted at earlier, Ryan Selkis' tirade comes as a damning report was published by Bitwise Asset Management, a San Francisco-based crypto-centric services provider that is looking to launch a crypto-backed exchange-traded fund (ETF). Per our previous reports on the matter, Bitwise writes that while many expect for Bitcoin markets to be "uniquely orderly and efficient, with tight spreads and nearly perfect arbitrage," this is far from the case.
Through a slide deck, Bitwise reveals that this explains that this budding ecosystem is often disjointed, with there being great discrepancies in exchange prices. And this is purportedly for good reason. As explained earlier, volume readings posted on "data aggregators" could be 95% false "and/or non-economic in nature."