Technical Analyst Fears Stocks May Top Here — and That's Bad for Bitcoin
He shared the chart below on September 14th, which shows that after a recovery after last week's lows, the S&P 500 is rubbing up against a pivotal resistance. If the resistance holds, that means that the S&P 500 may be in a short-term bear trend, which would not bode well for Bitcoin and other risk-on markets.
Both Bitcoin and the stock market surged on Monday after a shaky past week.
BTC is up 5% in the past 24 hours as it has pressed to weekly highs at $10,700.
The S&P 500 and other leading indices are up around 1.5% during Monday's trading session.
While this is a bullish bounce, analysts are still wary.
The head of technical analysis at Blockfyre recently suggested that stocks are at a pivotal reversal point.
Blockfyre is a notable crypto research firm.
Stocks reversing from here would be bearish for Bitcoin due to the correlations in these markets.
The reversal would prove bearish as Bitcoin is somewhat tied to the stock market.
The correlation has decreased over recent weeks but is still of relevance.
The trader, who is the head of technical analysis at crypto research firm Blockfyre, commented on the matter:
"Here we are. If Stonks are bearish this is where the rally ends. Election in 2 months. Risk off is a real potential outcome. Have you managed your risk accordingly?"
The same analyst shared a chart that also shows that Bitcoin is at a pivotal resistance zone, even after the ongoing rally.
For the cryptocurrency to confirm that it is on bullish footing, it will need to push above the current region and retake the $11,000 support.
Some traders are maintaining their bullish sentiment despite some uncertainty about price action.
Referring to the chart below, crypto trader and Blockroots founder Josh Rager commented that Bitcoin closing above $10,000 on a weekly time frame suggests a bullish bias can be held:
"$BTC Weekly Close. Bitcoin closed above the $9940 to $10,173 level and held for the second week in a row. I want to see Bitcoin reclaim $11,900 and close above to be bullish. Until then, I remain neutral (leaning bullish) and will continue to trade altcoins at this time."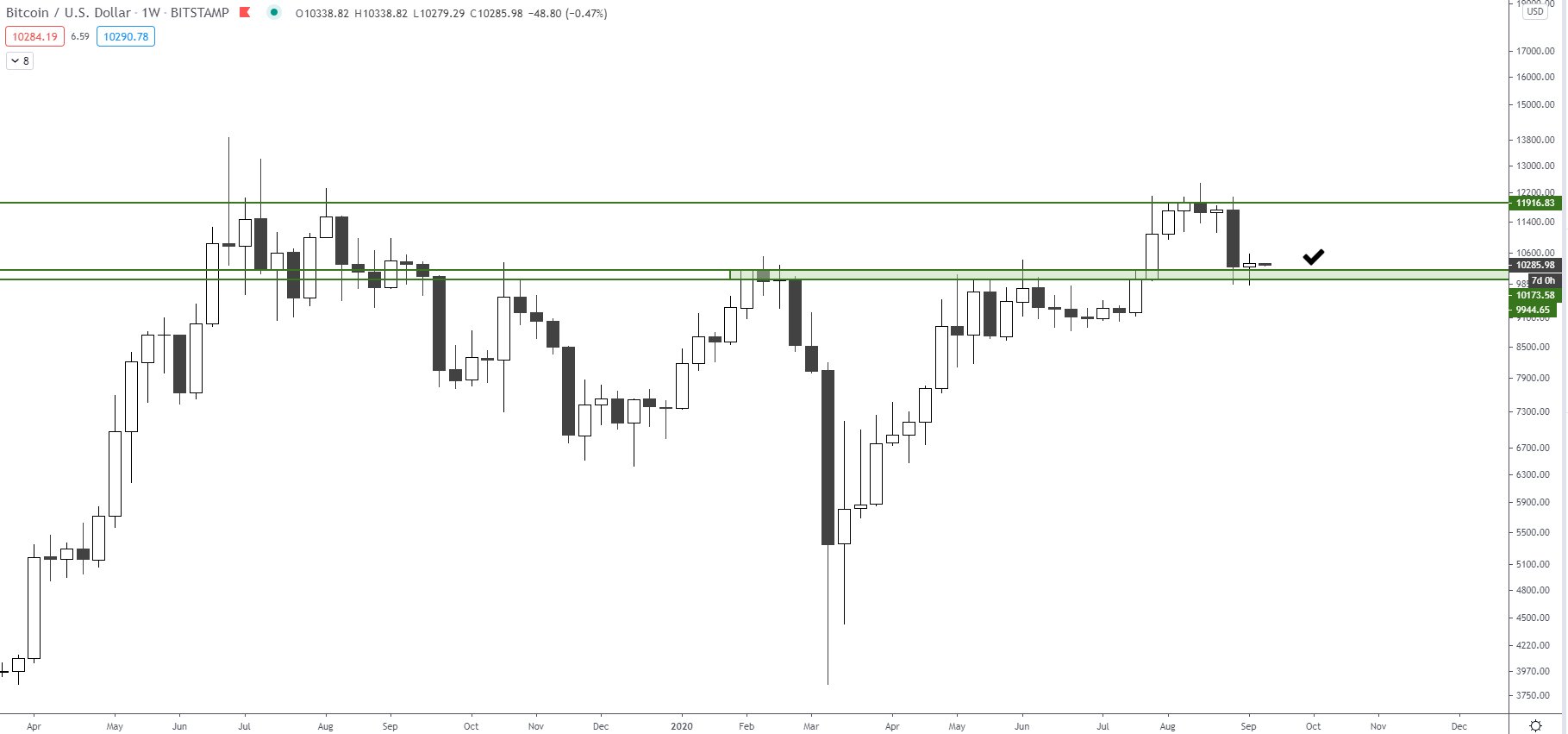 There are also fundamental factors that are set to drive BTC higher, including ongoing monetary stimulus and fiscal stimulus.
source: https://bitcoinist.com/technical-analyst-fears-stocks-could-top-here-bitcoin/?utm_source=rss&utm_medium=rss&utm_campaign=technical-analyst-fears-stocks-could-top-here-bitcoin
TheBitcoinNews.com is here for you 24/7 to keep you informed on everything crypto. Like what we do? Tip us some BATSend Tip now!