Beginner's Guide to XTB: Complete Review
Risk Warning: 79% of retail investor accounts lose money when trading CFDs with XTB Limited.
While most brokers are only regulated by one, possibly two, organizations, XTB is regulated by a long list. XTB has offices in over 10 countries around the world, including France, Spain, Germany, Poland, the UK, and Belize. With its reach in so many different countries, it should come as no surprise that XTB is regulated by numerous supervision authorities from around the world, including CySec, KNF, FCA, and IFSC. With so much international regulation, you can trust that XTB is held to a high standard, particularly in terms of protection of client funds.
XTB International Limited (XTB) is regulated and authorized by IFSC (International Financial Services Commission) in Belize under IFSC License No: IFSC/60/413/TS/17. XTB is registered in Belize with Registered Number 153,939. The company's address is 35 Barrack Road, 3rd Floor, Belize City, Belize, C.A.
XTB is one XTB Group's trademarks. The XTB Group also includes X-Trade Brokers DM SA, XTB Limited, and XTB Sucursal. Other international organizations authorize and regulate these other entities. Komisja Nadzoru Finansowego (KNF) in Poland authorizes and regulates X-Trade Brokers DM SA (KRS 0000217580, REGON 015803782, NIP 52 7-24-43-955). The Financial Conduct Authority in the United Kingdom authorizes and regulates XTB Limited (FRN 522157). The Comision Nacional del Mercado de Valores in Spain authorizes and regulates XTB Sucursal.
XTB Ltd's (XTB UK) registered trading office is located at Level 34, One Canada Square, Canary Wharf, E14 5AA, London, United Kingdom. X-Trade Brokers DM SA's registered address is ul. Ogrodowa 58, 00-876 Warszawa, Polska. XTB Sucursal's registered address is C/ Pedro Teixeira 8, 6ª Planta, 28020, Madrid.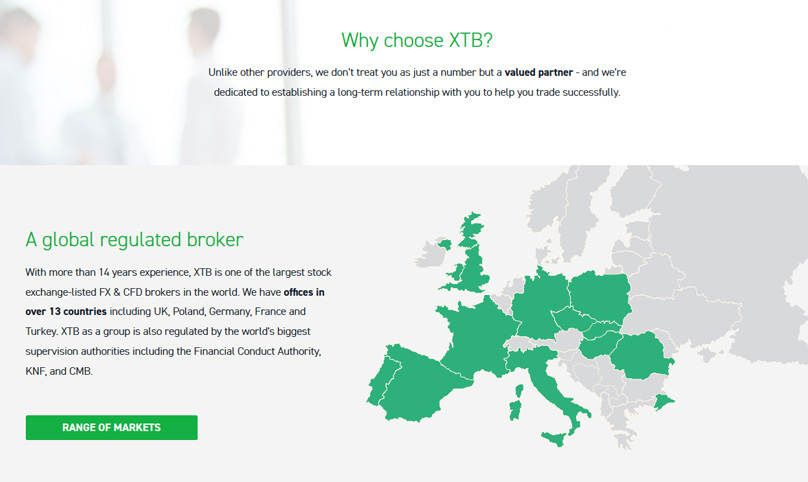 XTB has a rich history that reaches back to 2002. In 2002, X-Trade was incorporated. With its location in Warsaw, it was, at the time, the very first foreign exchange brokerage house in Poland offering leverage. In 2004, X-Trade merged and became XTB as a way to comply with the updated regulations for the Polish market.
By 2005, XTB was authorized by the Polish Financial Supervision Authority (KNF) for offering brokerage services across all types of financial products. In 2005, XTB earned the honor of "Best Broker in Europe" from the Money Markets Journal.
In 2006, XTB became part of the Polish National Clearing House and the Warsaw Stock Exchange. In 2007, it opened its first foreign branch, which was located in the Czech Republic. It followed this achievement by also opening offices in Romania, Slovakia, Germany, and Spain in 2008.
X-Trade Brokers rebranded to become XTB Online Trading in 2009. In 2010, XTB opened up new branches in Portugal, France, Italy, and Hungary. These branches included cross-border licensing in Austria, the Netherlands, Sweden, Bulgaria, Greece, and Belgium. The year 2010 also saw XTB establish subsidiaries in Turkey and the United Kingdom.
In 2016, XTB signed a deal with Mads Mikkelsen, the award-winning Hollywood actor, to become a brand ambassador. In 2016, XTB was successfully listed on the Warsaw Stock Exchange. The first day that it was a publicly traded company, the shares rose over 4%.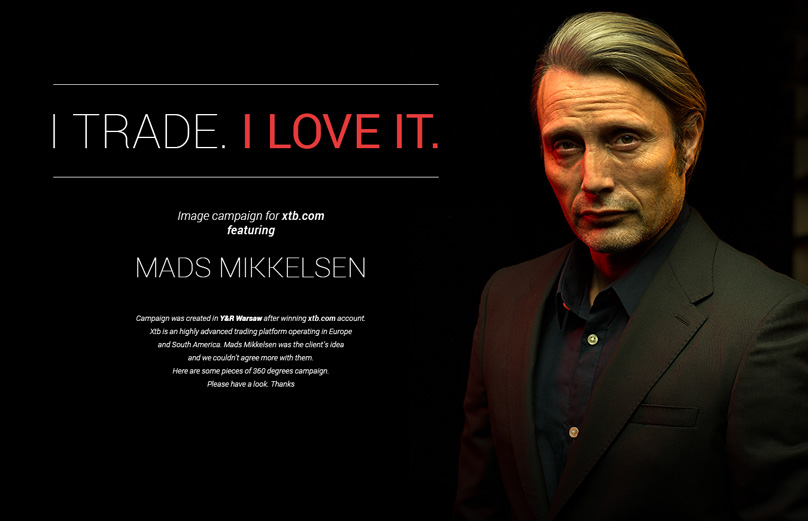 XTB has multiple account types, including a demo account which is super easy to signup for and will allow you to test out the platform with either MetaTrader 4 or the web-based Xstation.
Demo Accounts – There is a Demo Account from XTB that lets you test out the platform without any commitment.
Standard Accounts – This account has access to over 1,500 instruments, including forex, commodities, crypto, indices, stock CFDs, and ETF CFDs. This account type has market execution, leverage of up to 1:200, a minimum spread of 0.35, and a minimum order of 0.1. There is negative balance protection and automated trading. Both account setup and management are free for this account type. You can use MT4 or xStation with this type of account.
Pro Accounts – have identical access to assets, with a minimum spread of 0.28 and maximum leverage of 1:200. There is free account set up without any management fees, and the minimum order size is 0.1 lot. This account type also works with both xStation and MT4.
Islamic Accounts –  are similar to Standard Accounts. The only differences are that they do not offer cryptocurrency trading and are swap-free.
Only the Standard and Pro Accounts are available to clients in the UK. Both of these types of accounts for UK clients use floating spreads, with Pro Accounts also featuring market execution. This involves paying a small commission in order to reach market levels. A UK Standard Account spreads float with a minimum of 0.9 pips, while Pro Accounts have a minimum spread of 0 pips, which are also floating.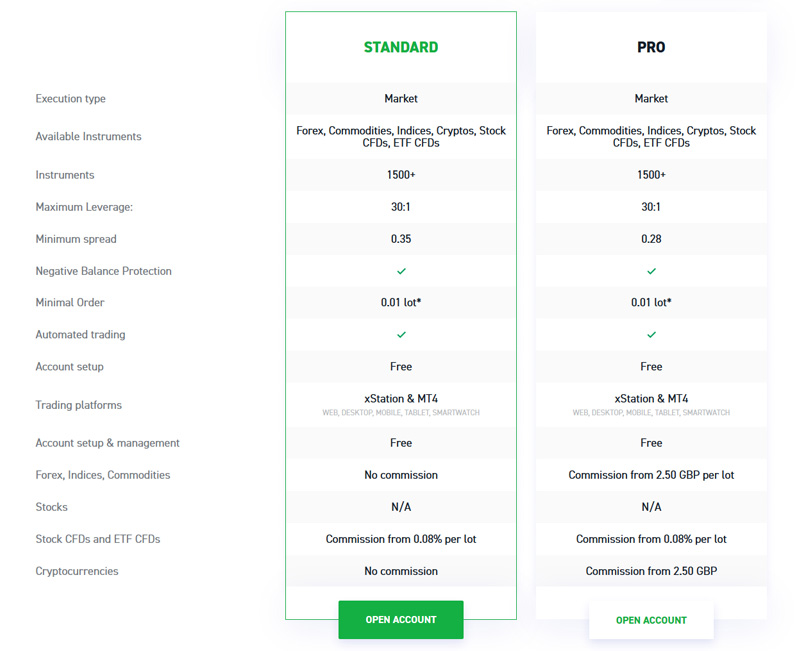 It is incredibly easy to create a trading account with XTB. To get started, simply fill out the online form, which you can easily find on the main page or nearly any other page on the XTB website. While XTB verifies your details, you will get immediate access to the trading platforms. You will likely need to upload additional documents. After your application is approved, you can deposit your funds and begin trading.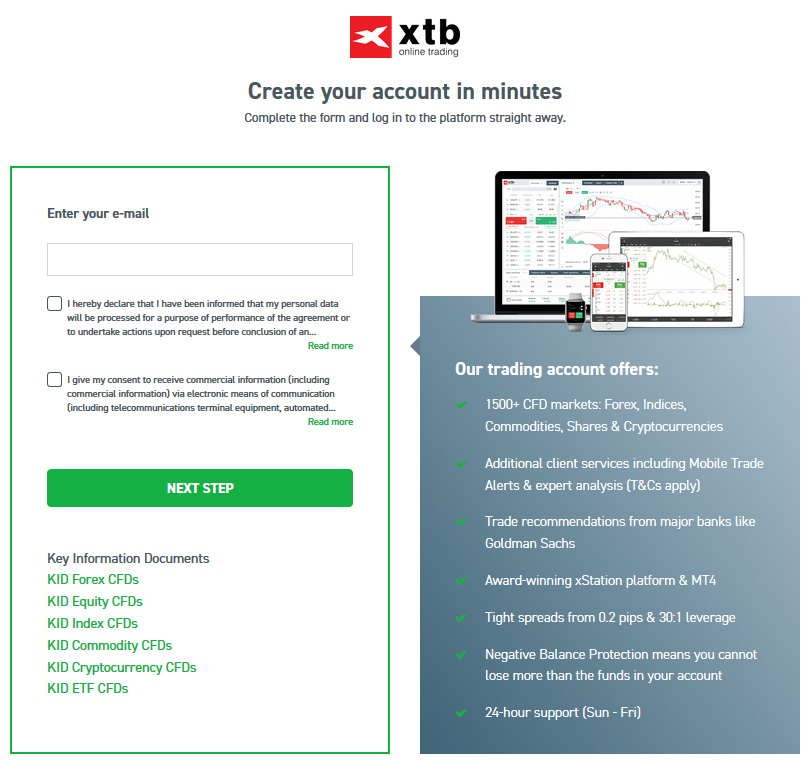 After you create an account with XTB, you will need to activate it before you are able to start trading. This activation process is essentially XTB's verification process, and it involves uploading required documents to prove your identity as well as your address. Specific requirements vary slightly by region but are generally very similar.
In the United Kingdom, for example, XTB accepts a passport, national identity card, or driver's license as proof of identity. In the case of the latter two, you must upload an image of both the front and the back of the ID. The proof of address must be from the past three months and must be a full page. It cannot be an online document. Accepted proof of address (in the UK) includes a bank statement, a utility bill, a phone bill for a landline, or a tax statement or bill. After XTB reviews and accepts your documents it will then officially activate your trading account.
With XTB, traders are able to enjoy spreads as high as 200:1 or as tight at 0.3 pips. To round it out, clients enjoy market level execution. For full transparency at all times, XTB includes the pip value, swaps, and spread on your deal ticket; this way, there are never any surprises. XTB also uses advanced trading technology that prevents requotes so you can trust that the trade will enjoy smooth execution.
Each instrument type has its own specific trading terms. If you visit the Market Analysis section of the XTB website, you can go to the Price Tables. Here, you will find the current price for each instrument, including figures for bid, ask, spread, and percent change. Click on "Instrument Specification" below each chart to see the information for all instruments within a category, as this main page only displays around 10 to 15 of each instrument type due to space limitations.
To deposit funds into your XTB account and begin trading, simply log in and head to "Deposits." From there, you just choose your trading account as well as the payment method. XTB offers many methods of depositing funds, some of which have additional charges and many of which are free. Keep in mind that if you deposit funds into XTB in a currency that is not that of your bank funds, XTB will not pay for the exchange rates. There are also some variations in accepted deposit methods based on location.
Bank transfers are free and accepted in USD. In some cases, your bank may charge a transfer fee, although XTB will not charge you any additional fees. Bank transfers that you make to XTB must come from banks that are registered in your full name, with the name matching that of the XTB account. If this is not the case, you risk wasting time as the funds will return to the original bank account.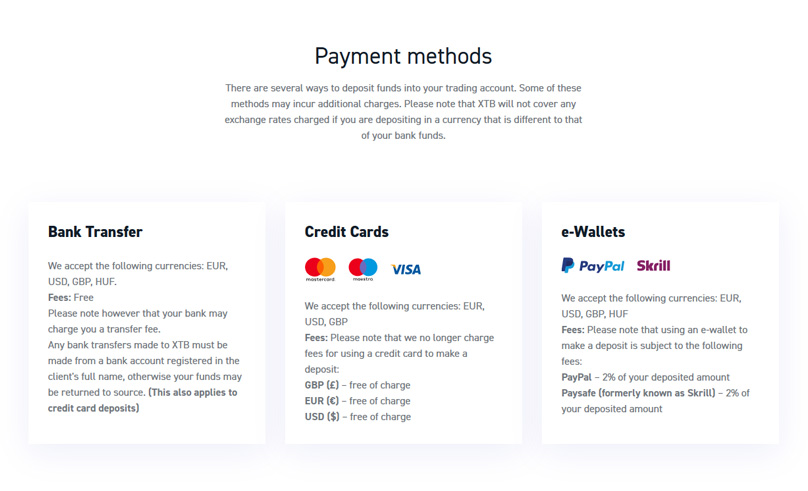 Deposits can also be made via credit cards, including Visa, MasterCard, and Maestro. These deposits can be made in USD; XTB does not assess any additional fee for this transaction.
Finally, you can use one of several e-wallets to deposit funds into XTB. Paysafe, which used to be known as Skrill, comes with a fee equal to 2% of the amount deposited. SafetyPay comes with a 1.5% fee.
Deposit and withdrawal methods vary by region and country for XTB clients. In the UK, for example, you can also make a deposit via PayPal or Neteller, but SafetyPay is not an option. Deposits for UK accounts can be in USD, GBP, or EUR.
The initial deposit into an XTB account must be at least £250, $250, or €250. After this initial deposit, there is no minimum size for subsequent deposits.
Withdrawing funds from your XTB account is just as straightforward as making a deposit. Visit your Client Office after logging in and choose the account you want to withdraw from. Next, choose the amount you want to withdraw. Keep in mind that if your account that you want to withdraw the funds from is not in the same currency as your trading account, Pekao will convert the amount at its rate, either at the time the bank receives the payment or at the time of request. As is the case with deposits, you can only make a withdrawal to a bank account bearing your exact, matching name.
When making withdrawals, XTB processes the payments with the SHA model, covering the full cost that the Sending Bank charges. Your bank may charge you an additional fee. If you choose to withdraw less than $100, this will come with an extra $30 commission.
To appeal to a wide range of traders, XTB supports a long list of assets. In total, there are 3,000 markets that you can trade with the broker, including forex, commodities, shares, and indices.
For forex, you can enjoy spreads from 0.1 pips; these are tradeable 24/5. There are 48 currency pairs, micro lot size contracts, and there is no minimum initial deposit.
There are more than 20 indices available with XTB, including those from China, Germany, and the USA. All have low transaction costs, the ability to go long or short, financial leverage mechanism, and no overnight cost to hold an open position.
There are popular commodities available, such as oil, silver, and gold. These have no overnight holding cost, 24-hour trading, low transaction costs, and high volatility for precious metals and commodities.
XTB supports CFDs on over 1,500 equities, with leverage as high as 1:10. The commissions are low, starting at just 0.08% and there is ultra-fast execution plus the ability go long or short.
There are 60 ETF CFDs, with leverage of up to 1:10, low commissions starting at 0.08%, ultra-fast execution, and negative balance protection.
Finally, XTB offers the option to trade cryptocurrencies, including Dash, Bitcoin, Litecoin, Ripple, Stellar, Ethereum, and more. The market is open 24/7 and there are low transaction costs and no risk of losing capital to a hacking attack.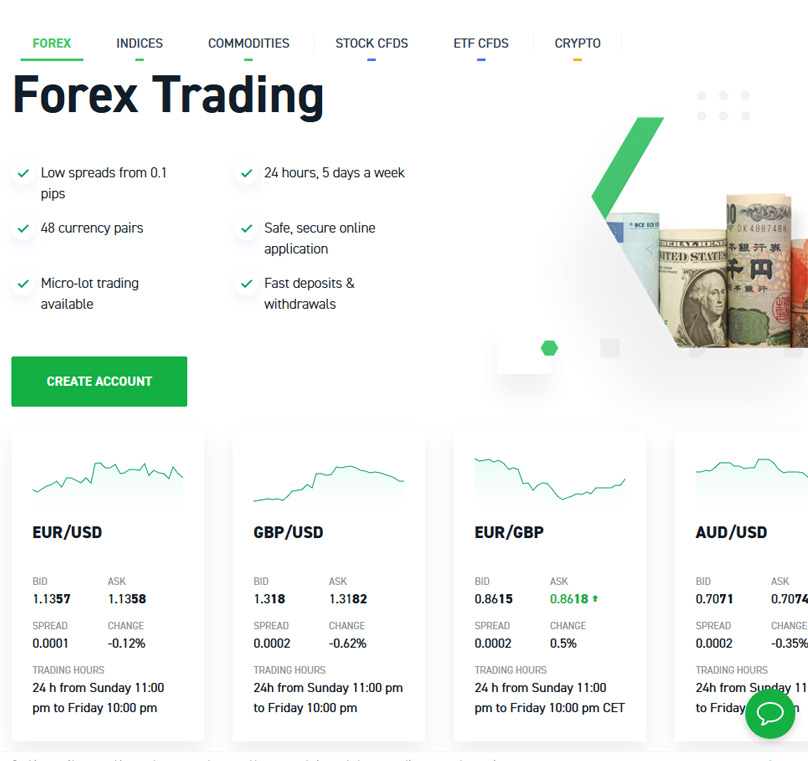 Commissions vary slightly by account type. There is no commission on Standard Accounts for crypto, forex, indices, or commodities, with commissions on other types starting at 0.8% per lot. These are also the commissions (when applicable) for Islamic Accounts.
For Pro Accounts, the commissions on forex, indices, commodities, and cryptocurrencies start at $4 per lot. Commissions for stock CFDs and ETF CFDs start at 0.08% per lot.
In addition to account types, XTB offers different service levels. These levels let the broker accommodate the needs of each client, regardless of their experience level or expertise.
Base service levels do not have a minimum volume in lots or a minimum deposit. This service level also provides clients with access to the Premium Educational Materials. The education system was created by XTB specialists and it includes materials for all skill levels to guide you through your trading journey.
Plus service levels have a minimum volume of 10 lots and a minimum deposit of 100 EUR. In addition to providing access to Premium Educational Materials, this service level provides access to Premium Research Materials, Premium Email and Push Notifications, and a priority pass to events, such as Trading Clubs. The Premium Research Materials come from the XTB award-winning analyst team. They are designed to help you stay up-to-date with the latest market movements and provide expert guidance to support your strategies.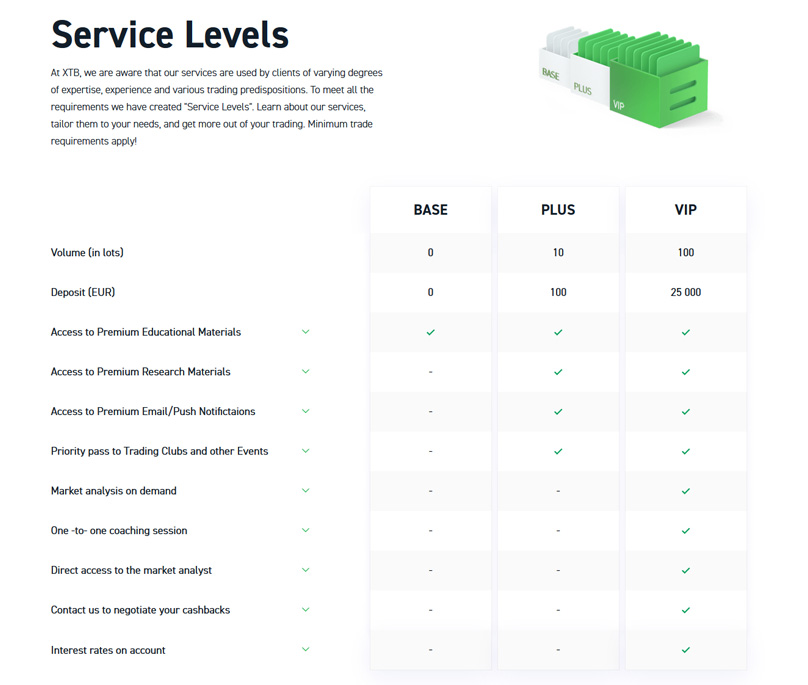 The Premium Email and Push Notifications include information like market news, trading signals, and analysis. The idea is to give you quick information that is actionable so you do not miss out on opportunities. The Trading Clubs occur weekly, and professional traders run these sessions to include real-time market analysis. There is also priority access to XTB Masterclasses.
Finally, the VIP service level requires a minimum trade volume of 100 lots and a minimum deposit of 25,000 EUR. In addition to all of the above, this service level gets one-to-one coaching sessions, market analysis on demand, and direct access to market analysis. Market analysis on demand involves consultations with market analysts who can give you feedback on your trading strategy and explore specific markets for you. This goes hand-in-hand with direct access to market analysts so you can get information on market movements in real-time.
The one-to-one coaching sessions help you improve your technical analysis skills and tools, such as Market Geometry, Ichimoku, and Price Action. These sessions can also help develop trading psychology or risk management. VIPs can contact their Account Manager for a current list of available trainings.
The Online Personal Wealth Awards named the XTB platform the "Best Trading Platform 2016." The platform provides clients with live market commentary as well as an economic calendar. There is an ultra-fast execution speed and access to advanced chart trading tools. You can use XTB on any device, including your desktop, laptop, tablet, or smartphone.
There are two platform choices with XTB: xStation 5 and MetaTrader4.
xStation 5 is the award-winning platform from XTB. It's simple to use and has superior execution speeds. This platform includes a trading calculator, advanced chart trading, trader statistics, advanced technical analysis, bulk order closing, Trader's Talk, market sentiment, top movers, and equity screener.
xStation 5 is available for desktop devices, tablets, mobiles, and even smartwatches. The desktop version is fully functional and is the fastest version of the platform. The tablet application maximizes the tablet device version's interface and delivers full trade management along with powerful tools. Like the desktop version, it offers bulk order closing, complete trade management, and interactive charts that include technical indicators.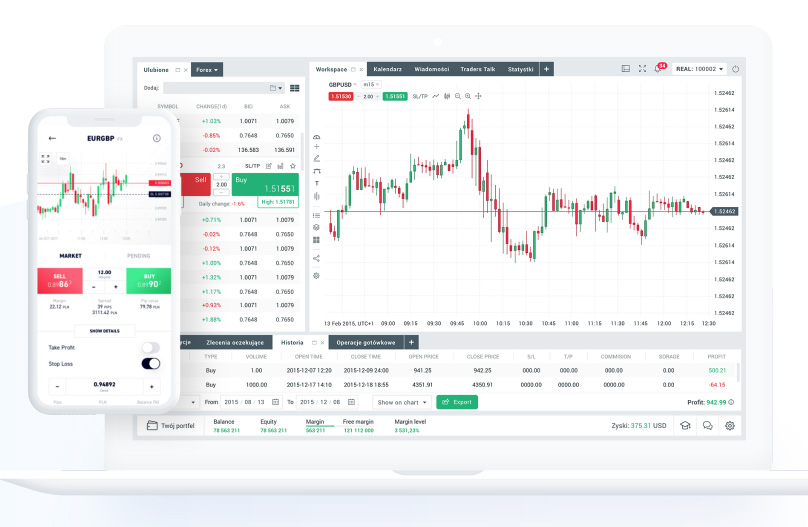 The mobile version is incredibly popular, with over 50% of XTB clients actively using it. It is filled with powerful tools and features, including complete trade management, the interactive charts, the technical indicators, and bulk order closing. The smartwatch application lets you trade the markets in just a few taps and it works with both Android and iOS smartwatches. The interface is simple to use, and you can trade and manage your orders right from your smartwatch.
MetaTrader 4 is the most popular trading platform in the industry, providing XTB clients with all the benefits of a well-loved and easy-to-use platform. There is a vast array of analytical tools built right in as well as the ability to add automatic strategies, indicators, and oscillators.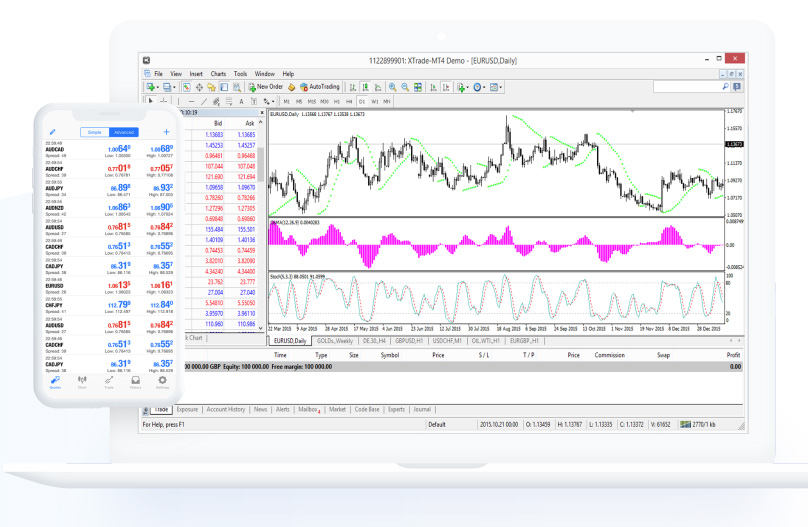 One special feature of MT4 is the ability to optimize technical trading via powerful pattern recognition. This tool lets you spot trends that are just emerging so you can define the exit and entry points as well as set the profit taking and stop loss levels. With a one-click dealing system, entering and exiting trades is quick and efficient. MT4 also has a strategy tester and a great deal of experience.
MetaTrader 4 is available for desktop, tablets, and mobile devices. The desktop version is full of features. The tablet version lets you have full control and management over your open transactions. The mobile version is available for both iOS and Android and lets you trade anywhere at any time. It includes intuitive abilities to execute transactions and analyze market trends.
Those who trade on MetaTrader 4 with their XTB accounts can choosing from Buy Stop, Sell Stop, Sell Limit, and Buy Limit pending orders. There is also the ability to open a trade with an instant order. xStation also lets you make Stop Loss and Take Profit orders to make the most from your trades.
The specific steps to trading with XTB will depend on the platform you use. With MetaTrader 4, you can open a trade by using the Market Watch window found along the platform's left-hand side. Alternately, you can press the F9 button on your keyboard or go to the "tools" tab by the platform's top menu. After this initial step, just fill in the relevant information for your trade and submit the information.
There are also three methods of placing a trade using xStation, all of which are simple and intuitive. You can do so via the Market Watch window, which opens when you click on the name of a market. This window features a built-in calculator so you can view things such as commission, pip value, spread in pips and its monetary value, and daily swap points. You can also trade via the chart; specifically, look for the top left-hand corner where you will see buy and sell buttons plus the ability to modify the quantity.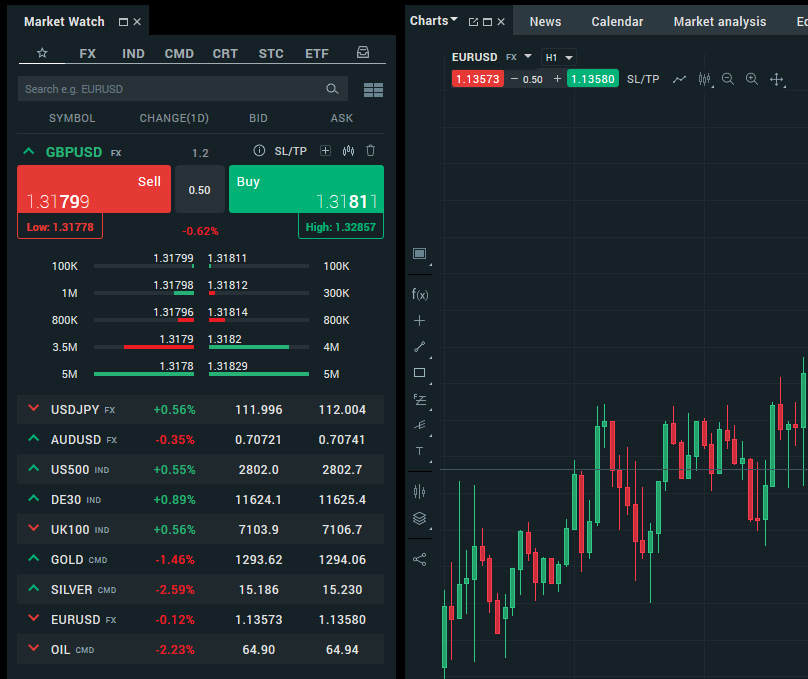 Finally, you can opt to use the three-click trade functionality. When on the market you want to trade, select the "Place pending order on Chart" icon. Now, you can click where you want to trade on the chart, followed by where you would like to put the stop loss and then your profit target. This will give you a new deal ticket and you just have to select Buy or Sell.
One unique feature of XTB is that it provides clients with detailed live trader performance statistics. These statistics can be incredibly useful in terms of seeing areas for improvement and areas in which you are doing well.
The broker also offers a Trader's Calculator that is designed to help you calculate your trade based on your reward and risk. This feature is built into xStation 5 and determines your potential loss or profit based on stop loss, limit order, and lot size. The calculator is designed to assist with risk management.
xStation 5 also includes advanced chart trading, letting you trade right from the charts and take advantage of pending orders, take profits, stop losses, and market orders. xStation 5 also includes advanced technical analysis via technical indicators such as RS, Moving Averages, Fibonacci Retracement, and others.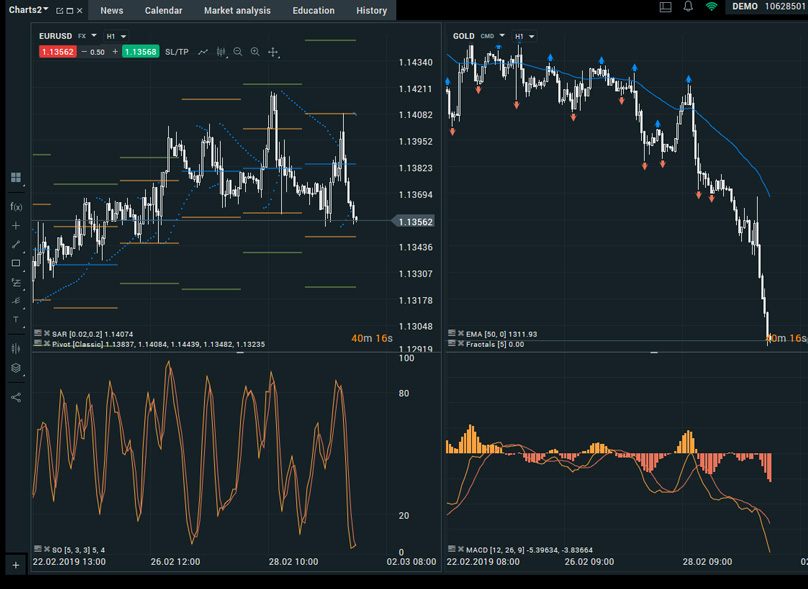 The bulk order closing trading tool lets you use a single click to close all losing or winning trades, limiting losses or locking in profits. The equity screener on xStation 5 lets you filter out stocks via an advanced screener to make it easier to find the best trading opportunities.
Those who trade with MetaTrader 4 get access to the Strategy Tester. This lets you test and optimize your EAs. Thanks to this trading tool, you can back test every strategy across your intervals and market assets to discover which solution works best. The results from Strategy Tester are extensive and divided into three tabs for thoroughness.
If you use MetaTrader 4, you will also have access to the MQL programming language, which lets you program and edit technical analysis tools. If you prefer not to create your own code for technical analysis tools, MT4 also includes access to the MQL4 community, which lets you share and/or download the tools, signals, and scripts or simply share strategies. It is also possible to add technical analysis tools to MT4 without any use of MQL by downloading and saving a tool in the appropriate spot. You can find detailed information on this process in the XTB FAQ section.
MT4 also includes multiple other tools to assist you with trading, including the ability to create price alerts. MetaTrader also provides access to technical tools like Gann-based tools and Fibonacci indicators, as well as your choice of charts, including candlestick, bar, and line. It also has various oscillators and indicators like Stochastic Oscillator, RSI, MACD, and Moving Averages.
XTB also features an economic calendar on its website, as well as within the xStation platform, which the company refers to as a market calendar. As expected, this calendar includes a full listing of all the upcoming and current events that can influence the various markets. You can filter the search results by impact and country, or just view the whole thing. You can also adjust the calendar view between a day, week, month, or a custom length of time. For each event, you will see the date and time, country, economic indicator, impact, period, current, forecast, and previous period.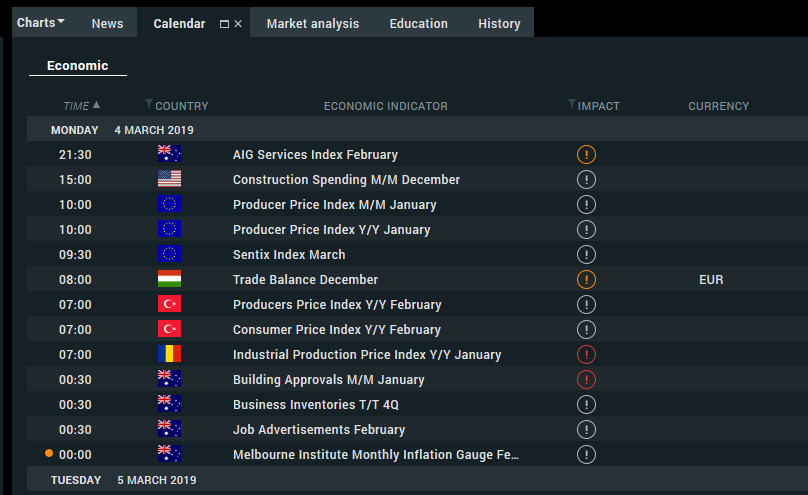 You can get market news and analysis directly via the xStation 5 platform with Trader's Talk. This is a live audio feed right in the platform that lets you hear breaking news for real-time market opportunities.
On the XTB website, you will find an entire section dedicated to Market News. Visiting this page will show you the latest relevant information for markets that can be traded on XTB. You can view the headlines or read the specifics. Each article has a quick summary as well as more in-depth explanation, including charts and graphs where useful.
You will find news as well as analysis on this page. Most of the articles are available to anyone, but some are locked and require a login. Any type of XTB account gets full access to the news and analysis section.
To ensure that all clients have the knowledge they need available at their disposal, XTB offers an extensive Education section; this is one of the main navigation tabs on the website. Within the Education section, you can divide the Trading Academy sections up by skill level or topic. The skill levels include Basic, Intermediate, Expert, and Premium.
Basic helps you learn the most important information about the forex market, instruments, and trading platforms and teaches basic trading techniques. Intermediate takes it deeper by teaching fundamental and technical analysis. This is also where clients learn about managing risk and controlling emotions. Expert courses will be available very soon and will focus on advanced tools and techniques, expert trading knowledge, and advanced functions on the XTB platform.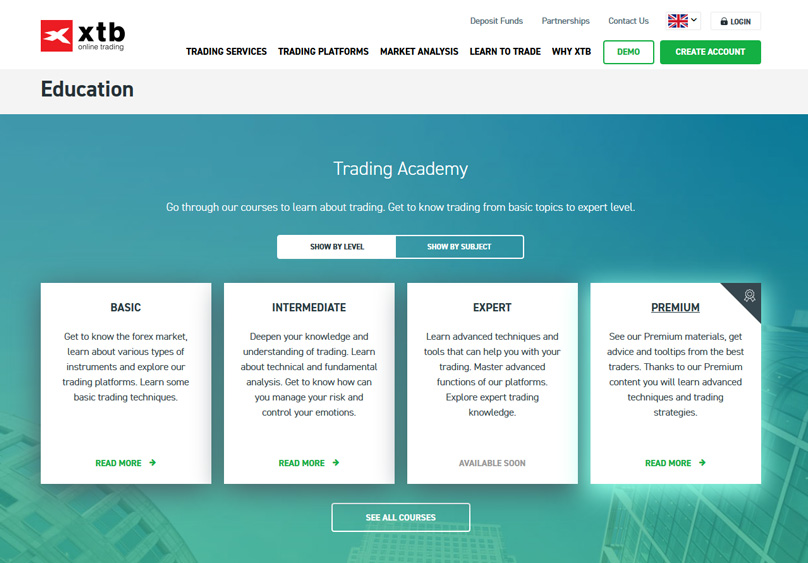 Finally, the Premium section is filled with Premium content and includes tools, tips, and advice from top traders in addition to advanced trading strategies and techniques. You can access most of the educational materials on XTB without logging in or registering, but the Premium section does require you to log in.
If you prefer, you can also browse the courses in the Education section by subject instead of level. This way, you get to choose from an MT4 Tutorial, an xStation Tutorial, an Introduction to CFDs, Fundamental Analysis, or an Introduction to Forex.
At the time of writing, the Basic category has 27 lessons to choose from and covers topics like using specific platforms in great detail, risk management, an introduction to types of charts, resistance and support, trading the trend, why macroeconomics matters, global sessions, and more. There are 15 Intermediate lessons at the time of writing, including more advanced how-tos on specific platform features, market sentient and positioning, stocks, cryptocurrencies, intermarket correlation, and more.
There is also a useful search feature on the Education page so you can easily find a topic that you wish to learn more about.
Depending on the language and region you choose when viewing the XTB website, you will also notice live webinars. These allow you to connect with XTB's market experts and learn or review skills from the comfort of your home.
Like most brokers, XTB has a FAQ section, also known as its Knowledge Base. Unfortunately, at the time of writing, the FAQ section does not information on the International Page. It is labeled as "Soon" with categories for Our Platforms, Your Account, and Trading Glossary. While the FAQ section will likely be useful in the future, the lack of content at the moment is a significant disadvantage for XTB over other trading platforms.
Without FAQs in place, the chances of needing to contact customer support to understand a process or resolve a minor issue increases. This may be a hassle for clients and likely also increases the wait times for support as more people contact support for minor issues.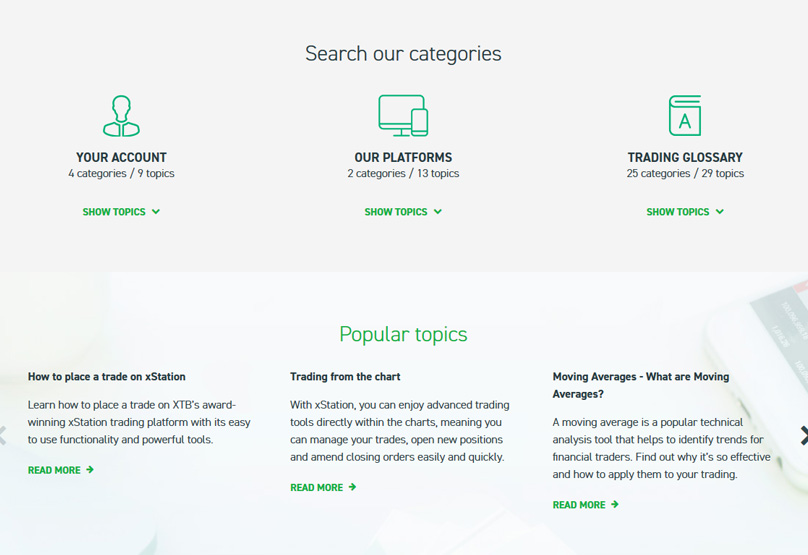 In the meantime, we suggest that if you cannot find an FAQ section with information on the XTB website dedicated to your region, that you visit that of another region. The version of XTB targeted towards United Kingdom clients in English, for example, currently has a reasonably detailed FAQ section with a total of 31 categories and 51 topics.
XTB offers both an affiliate program and an Introducing Broker (IB) program. With the affiliate program, you get marketing tools from XTB that you can use to advertise on your platform or website. Visitors get redirected to XTB via a unique link. You can then earn money for successful referrals, doing so on a monthly basis. This method can earn you as much as $600 per trader.
The Introducing Broker program acts as a partnership. You refer your clients to XTB and they open up and account and start trading. You will then receive a commission based on the trading volumes that your clients generate.
The client support from XTB is very highly rated, having earned a five-star rating from its clients. Part of this is due to the friendly, prompt service, while another aspect is XTB's previously mentioned desire to build long-term relationships with its clients. The support team is available 24 hours a day Sunday through Friday. This makes it easy to get help exactly when you need it.
The fact that everyone gets their own personal account manager is also incredibly useful as this allows for personalized service and a simple point of contact.
Since XTB is regulated, you can rest easy knowing that the broker holds all of its retail clients' funds in a segregated account. This means that those funds never mix with the broker's own funds. There are also additional measures in place, such as storing the funds in ring-fenced accounts separate from those of XTB. The use of segregated funds for client funds ensures that if something happens to XTB and the broker must file for bankruptcy, the client funds cannot be considered recoverable assets by XTB's general creditors. Instead, the funds would have to be returned to the clients.
In the case of XTB clients in the United Kingdom who sign up via the UK version of XTB, there is additional fund protection via the Financial Services Compensation Scheme. This scheme, known as FSCS, provides insurance of up to £50,000 per person if the unlikely scenario occurs and XTB becomes insolvent.
All personal information that you submit to XTB remains safe with the company. All of the data passes through a secure SSL connection to prevent hackers from gaining access to it. Due to XTB's regulation and authorization from various financial organizations around the world, you can count on the broker to maintain the highest level of security.
XTB is in competition with similar brokers which have covered before, as follows:
Over the 12 years that XTB has served traders, it has earned numerous awards and honors. Both Forbes and Bloomberg have praised the broker. It has also earned honors from M&A Today Global Awards 2018 and AtoZForex.com's 2017 Forex Awards. In 2018, XTB was the Wealth & Finance Highest Rated FX/CFD Broker for the Global Excellence Awards.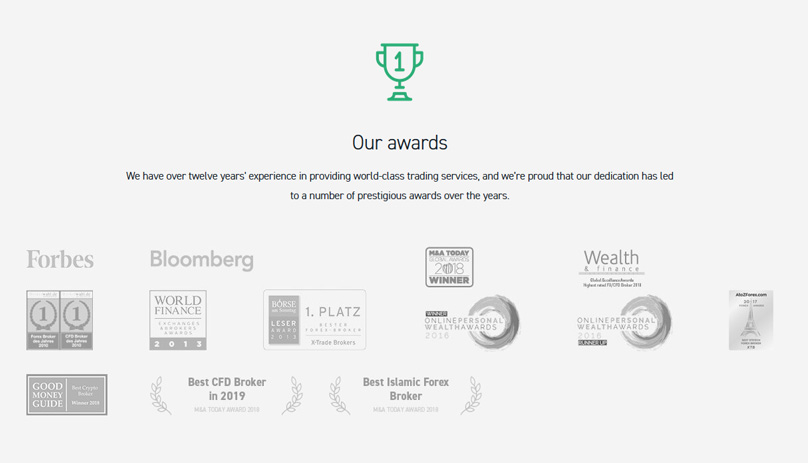 XTB won an Online Personal Wealth Award in 2016 as well as a runner up. It also received honors at the World Finance Exchange Brokers Awards in 2013. Also in 2013, XTB earned the title of Bester Forex Broker (Best Forex Broker) from the Leser Award. In 2010, XTB earned honors for being a Forex Broker and CFD Broker from.
XTB is an international online broker with 14 years of experience. The broker now operates offices in 10 countries worldwide and offers clients access to thousands of instruments to trade. XTB has gained an excellent reputation for it's high quality platform, fast order executions & transparency. Add in the fact it is a highly regulated and publicly traded company, you can trade with them with confidence.
There are multiple account types, including a swap-free Islamic account, and various service levels to accommodate the needs of various traders. XTB has its own trading platform, xStation, or works with MetaTrader 4 for those who prefer something familiar. xStation itself is a very well built piece of software which you can use on web, mobile or with the desktop downloadable app.
XTB is regulated by multiple international organizations, providing clients with peace of mind. The broker is simple to use, has good customer service, and offers a very nice selection of educational tools.
If you are looking for one of the best brokers, we highly recommend you try out XTB.
79% of retail investor accounts lose money when trading CFDs with XTB Limited.
The post Beginner's Guide to XTB: Complete Review appeared first on Blockonomi.
source: https://blockonomi.com/xtb-review/
TheBitcoinNews.com is here for you 24/7 to keep you informed on everything crypto. Like what we do? Tip us some Satoshi with the exciting new Lightning Network Tippin.me tool!